A Resource for the Community
The Cannabis Center of Excellence, INC. (CCOE, INC.) is a registered 501c3 non-profit organization that conducts citizen-science focused population studies and programs in the areas of community engagement, medical cannabis, adult-use cannabis, and social justice in the cannabis industry. The CCOE serves as a virtual resource & network of cannabis industry professionals, academics, policy makers, healthcare providers, consumers, and patients who aim to break the stigma and advance social justice in the cannabis industry.
Learn More About Our Ongoing Studies Below!
New Cannabis as an Alternative Study Launched!
The first 150 participants will receive one entry to a lottery drawing for a $100 Visa gift card. The winner will be contacted through the email provided in the survey! Take the survey until November 31, 2023.
LEARN MORE!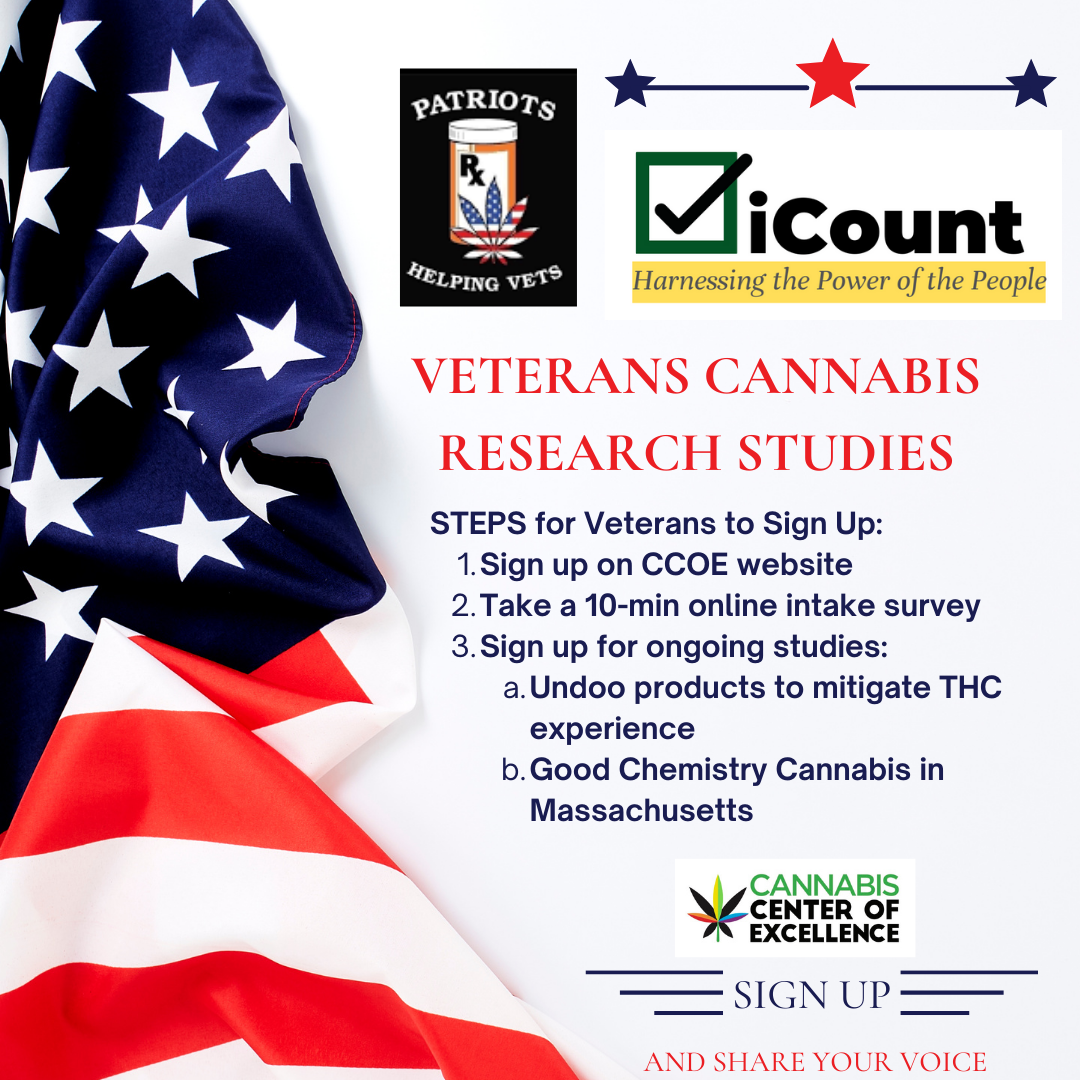 iCount for Veterans Research Study with Undoo®
iCount - Veterans is a free platform that empowers US Military Veterans by providing a space to engage in cannabis product discounts, and research studies and education programs about cannabis and share their opinions. 
VETERANS SIGN UP FOR iCOUNT TO PARTICIPATE IN OUR STUDIES!
The Virtual Cannabis Center of Excellence, INC (CCOE), is a 501c(3) non-profit organization that virtually brings together citizens, medical patients, academics, researchers, community members, healthcare professionals, and policy makers to drive change in access, best practices, and social justice in cannabis industry. We do this by sharing online, collaborative, and innovative research, education & program resources that drive change.
Our Mission is to incorporate citizen-based science and a space to facilitate community engagement through medical cannabis research, education, and programming. Doing so provides an online vehicle for citizen voices to be amplified to create collective change.
---
Get Involved
We are a community of citizens, patients, consumers, researchers, community members, businesses, advocates, academics, healthcare providers, and policy makers that drive change in access & social justice in the cannabis industry through citizen science and community. Any organization or individual working in the field of cannabis can contribute findings, call to action, opportunities, or any other relevant information to the website or newsletter by submitting it here. 
Current features and partners
RECEIVE MONTHLY NEWS
Join the community and be the first to know about news in the field.